After Dark
Welcome to the wonderful world of UV reactive colour powder! Take your after-dark event to the next level with our newest addition to the colourful collection. Whether you're hosting a Halloween event, glow party, or throwing a late-night fundraiser, our UV reactive colour powder is a must-have item for a truly mesmerising experience.
Our UV reactive colour powder is specially designed to come alive under black light, creating a stunning visual spectacle that will leave your guests in awe. From bold neon greens to awe-inspiring oranges, our powder is available in a range of vibrant colours that will transform any event into an unforgettable celebration.
Not just visually stunning, our products are also safe and non-toxic. We understand the importance of creating a fun and worry-free environment, which is why our powder is made from high-quality ingredients that are both skin and fabric-friendly.
Colour powder offers endless possibilities for fun and playfulness, whether you're designing your own spooky Halloween t-shirt design, participating in a UV colour powder fight, creating mesmerising light trails with your dance moves, or simply covering yourself from head to toe in a rainbow of colours, our powder is sure to bring out the inner child in everyone! Shop the full collection here.
Use Our Custom Calculator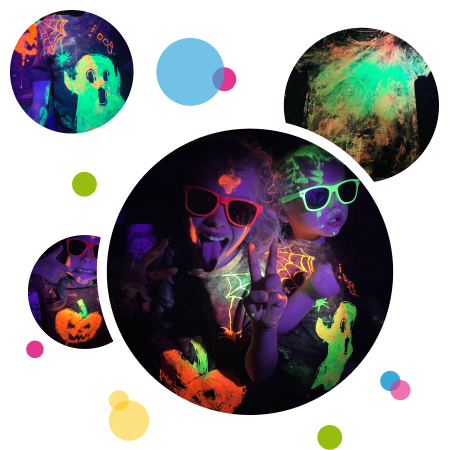 Find out how much you need!
How many people will be attending your event?
We suggest
10

X

5KG
bags of our coloured powder
You have selected enough for
10

people
which is a total of
50.00
Don't forget your 100g bags